HEARTLAND BOATING LAUNCHES NEW WEBSITE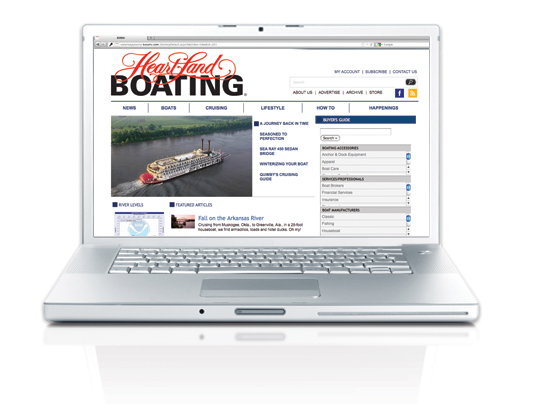 ST. LOUIS, Mo. – December 1, 2012 – HeartLand Boating, the Midwest's premier recreational boating publication, is pleased to announce it has launched a brand-new Web site at www.heartlandboating.com.
The new site offers a more contemporary and easy-to-navigate design. Among its top features are best-of articles from recent print editions of the magazine, as well as original content developed exclusively for the Web. In addition, the site has a powerful database that allows visitors to search hundreds of boat, engine, electronics and accessories manufacturers, plus area marinas and marine service providers.
"The new HeartLand Boating site samples the traditional editorial content that readers can find in our magazine, but more than that it's also a great resource for boaters who live on our visit these waters," said Editor Brad Kovach. "If you're researching a cruise in Heartland waters, or if you need a repair or plan to make a purchase, this is where to start."
The site continues the blog "Swing Set" by Mike and Rosie, two Midwestern retirees who are "living the dream" as they cruise full-time aboard their motor yacht. In addition, the site is kept fresh and functional through updated news briefs, an events calendar, photo galleries, videos and more.
Finally, the new site has a Web store that lets visitors subscribe, purchase back issues, advertise online or in print, and buy the most recent edition of Quimby's, recognized as the cruising guide for inland waterways and the Gulf Coast.
"The new HeartLand Boating Web site opens up new doors for content from our skilled writers, our passionate readers and our business partners," said Kovach. "I am extremely pleased about this launch, and I look forward to seeing it continue to evolve in the future."